Financing Options
It's something you've always wanted to do, but something else was always there to hold you back. Well, not anymore. We offer CareCredit, a card designed specifically for your health and beauty needs. CareCredit can help you move forward with getting the procedure you've always wanted. With convenient monthly payment options, no up-front costs and no prepayment penalties, you can get your procedure sooner. Read more below.
In addition, you may pay with cash or credit cards. Financing options are also available. If your surgery is of a reconstructive nature or deemed medically necessary, it may be covered by insurance. Please give us a call at 316.688.7500 to discuss your options.
Weighing Your Financial Options
For your convenience, we accept the following credit cards: Visa, Mastercard, American Express and Discover.
Prosper Healthcare Lending is a premier financing company in the cosmetic surgery industry. With over $5 Billion funded and over 300,000 loans inquiries serviced through their lenders, this is a name and a program you can trust. Here are some of the benefits you'll receive with a loan from Prosper Healthcare Lending:
Immediate decisions for loans under $35,000
Term options out to 84 months (affordable monthly payments)
No collateral required
No prepayment penalties
Fast & easy loan inquiry process
100% Confidential
Apply now→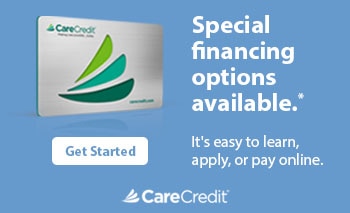 We offer CareCredit®, a card designed specifically for your health and beauty needs. CareCredit lets you begin your treatment immediately - then pay for it over time with convenient monthly payments that fit easily into your budget. CareCredit works just like a credit card, but is exclusive for healthcare services. With low monthly payments every time you use it, you can use your card over and over for follow-up appointments or different procedures. This means you don't have to put your health and beauty on hold until you save up enough money. CareCredit gives you the power to decide when it's the right time for you. If you are interested in learning more about financing through Care Credit, please feel free to contact our office, call Care Credit at 800-365-8295, or visit
www.carecredit.com
.
Newsletter
You'll receive our newsletter 1-3 times per month. Inside you'll find insightful information, tips, specials and more. You may opt out at any time.
1861 North Webb Road, Wichita, 67206
3931 North Ridge Road, Wichita, KS 67205
316.688.7500
800.688.7500